Certified Pediatric Office Executive
Course
All 20 courses offered in the CPOE program for one price!
Certified Pediatric Office Executive Program
Now Open!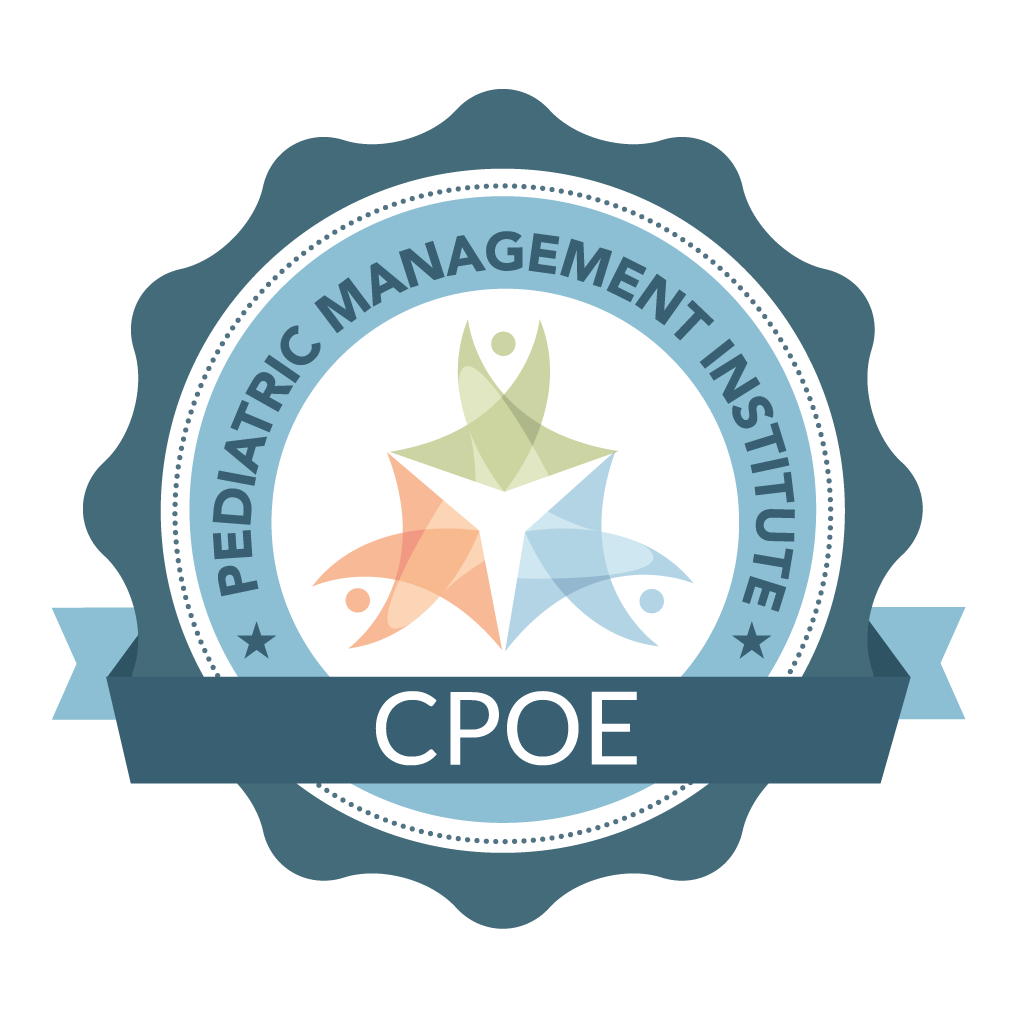 Pediatric Management Institute (PMI) is pleased to announce the launch of the Certified Pediatric Office Executive (CPOE) program on Friday, August 14, 2020, for:
Physicians
Office Managers
Administrators
Supervisors
​
Leveraging the expertise from industry experts via online learning for you to learn, at your own pace, the CPOE program will launch with 20 topics covering Finance, Human Resource Management, Strategic Planning, and much more:
Corporate Structures
Reading Financial Statements
HIPAA 101
Physician Employment Options
Equipment Lease Versus Purchase
How To Determine The Value Of A Medical Practice
How To Easily and Accurately Set Your Prices Using RBRVS
Financial Key Performance Indicators In Pediatrics
Physician Compensation Models
Practice Financing: Lines of Credit & Loans
RBRVS- What It Is And How It Affects Practices
The Business Of Immunization
Effective Interviews To Find The Right People
Effectively Marketing for Your Pediatric Practice
Maximizing Schedules For Pediatricians
Process Improvement In Your Practice
Using PCMH Components To Increase Efficiency & Productivity
True Cost of Billing Department And Outsourcing
Value-Based Contracts For Pediatric Practices
SWOT Analysis For Pediatric Practice
CPOE Learning Experience:
Sign Up for CPOE (Starting Friday, August 14, 2020)
Learn from industry experts from 20 core courses the information you need to know to run a Pediatric practice from the comfort of your own home via an industry-leading online learning platform (Dedicated iPhone and Droid app will be provided)
Complete the CPOE learning requirements:
Complete the assessment quiz after viewing each course​ video
Complete the final exam after you successfully pass the initial 20 courses
Submit an essay designed to articulate your mastery of the materials presented
Complete your "Capstone Project" designed to share with fellow members how you successfully applied the knowledge learned to improve your practice
One-on-one interview via online conference with select faculty to discuss the knowledge gained
Each month PMI will post two new courses for CPOE registrants to provide continuous learning.  The completion of six monthly courses per year is required to maintain certification.
Engage with colleagues around the country via the member-only discussion board
Receive exclusive discounts from PMI for future events and services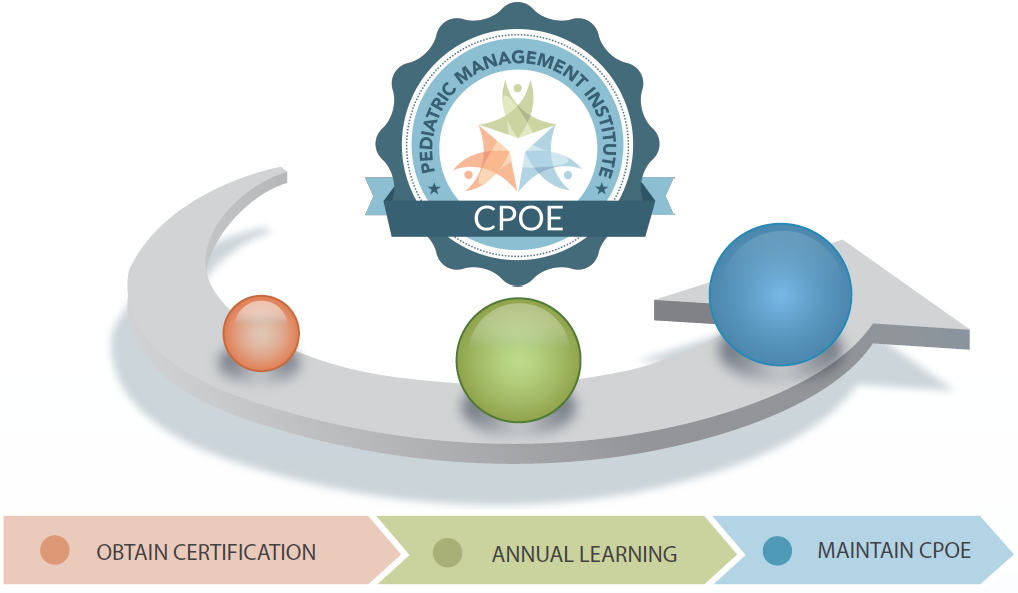 ​
CPOE Pricing
The initial 20 courses, online community resources, and access to two new courses each month is less than $60.00 per month. ( $ 699 paid annually at initial sign up)
Continued certification with access to monthly courses and online community resources for less than $30.00 per month ( $ 369 paid annually after initial 12-month CPOE enrollment).
Discount pricing available for large organizations, networks, and select vendor networks
CPOE Discounts
Discounts are available for individuals from the same practice/organization as followed:
Second purchase 15% off
Third purchase 20% off
Fourth Purchase 25% off
For more than four people, please reach out to us for a custom discount quote.


To take advantage of discounts, please contact us after the first person from your organization enrolls into the CPOE program.
​
CPOE 100% Guarantee
If after completing the initial CPOE program anyone feels they did not learn anything relevant to improve their practice, PMI will issue a 100% refund- no questions asked.
Here is the course outline:
Corporate Structures
Effective Interviews To Find The Right People
Effectively Marketing For Your Pediatric Practice
Equipment Lease Versus Purchase
Financial Key Performance Indicators (KPI's) In Pediatrics
Budgeting For Pediatric Practices
How To Determine The Value Of A Medical Practice
How To Easily and Accurately Set Your Prices Using RBRVS
Reducing No-Show's In Pediatric Practices
Physician Compensation Models
Physician Employment Options
Practice Financing: Lines Of Credit & Loans
Process Improvement In Your Practice
RBRVS- What It Is And How It Affects Practices
Reading Financial Statements
SWOT Analysis For Pediatric Practices
The Business Of Immunization
True Cost Of Billing Department And Outsourcing
Using PCMH Components To Increase Efficiency & Productivity
Value-Based Contracts For Pediatric Practices
3. CPOE Capstone/Process Improvement Project
Capstone/Process Improvement Project Summary